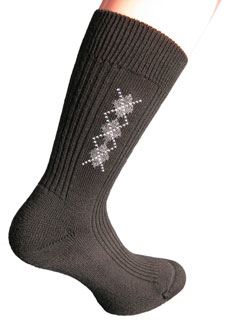 Brescia - The new Idea Doppio Terry from Busi has been equipped with several features, including the Rimaglio 2.0 classic linking system, which the Italian sock knitting machine builder says makes it unique on the market.
Capable of a broad rib that you would get from a double-cylinder machines as well as the embroidery patterns, smooth terry quality and double welt possibilities, the Doppio Terry is described as the only single cylinder machine in the market which is capable of knitting true rib socks (6/2, 10/2 etc.), with more than one needle in the rib and with terry.
The terry device also makes it possible to produce plain stitch, half terry and full terry in the same sock without any manual changes required.
The main specification for this machine is in a diameter of 3? ins with up to 200 needles in 48G. It was also equipped with the new Rimaglio 2.0 device.
This ?Classic Linking? system has been developed with several simplifications, with respect to the original model, and various other modifications providing an enhanced and more reliable performance compared with the previous version.
This involves the device mounted on-board a single cylinder sock knitting machine, on the left-hand side of the machine, so that the knitting technician still has full accessibility to the knitting head.
The sequential operation of the new device starts with the yarn finger head being raised when sock knitting has been completed. The cylinder then stops in a pick-up position with the help of a mechanical clutch. The knitting head is then raised and the toe-closing device swings across and aligns itself exactly above the cylinder needles. It is then lowered to a position where pick-up elements position themselves precisely onto these needles. Individual knitted loops are then transferred from the cylinder needles on to the toe-closing device. The sock is then picked up and the arm swings the device back into its position underneath the tubular sock-turning piston on the left-hand side of the machine. The knitting head is closed again and knitting of the next sock commences.
As knitting of the next sock commences, the completed sock is pushed upwards and turned inside out by a sock-turning tube. This means stitching of the toe occurs on the inside of the sock to replicate traditional linking.