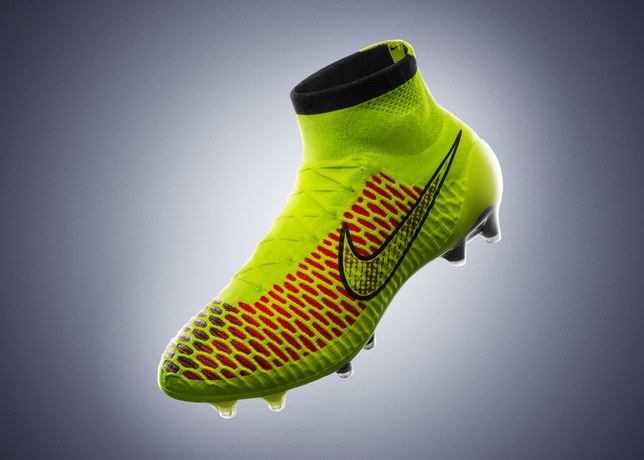 Beaverton - Following the recent launch of Adidas?s knitted football boot, Nike Inc. has released its version, the Magista.
Said to provide improved fit, touch and traction compared to non-knitted boots, the Magista is designed using Nike Flyknit technology to allow the foot to get closer to the ball and to deliver enhanced ball-feel and control. The boot was unveiled by FC Barcelona playmaker Andr?s Iniesta in Spain.
?Our aim at Nike has always been to meet the athlete?s particular performance demands and amplify his unique set of skills. Magista inherits that transformative history of design and innovation and supercharges it,? said Mark Parker, Nike, Inc. CEO and President.
Born from four years of research and development in the Nike Sport Research Lab and with feedback from some of the world?s best attacking playmakers, including Barcelona?s Andr?s Iniesta and German forward Mario Gotze, the Magista is designed to enhance creativity in a game where space is at a premium.
?With Magista, we?ve designed a shoe that feels like an extension of the player?s body. This isn?t a boot that just goes on your foot, it?s a boot that works with your foot,? said Phil McCartney, VP of Sport Performance Footwear. ?By eliminating distractions, players are free to unlock their potential and creativity.?
Using flat knitting machines, Flyknit technology has been designed to deliver feel, fit and control by creating a second-skin, sock-like feel and allows for strength and support to be knitted directly into the boot. The Magista also features a new mid-cut Dynamic Fit Collar for a more locked-down fit and increased awareness of the body?s movements and interaction with the ground and the ball.
?The Magista?s mid-cut Dynamic Fit collar is not just a visually compelling innovation, it?s designed to create heightened feel for the ball and enhance the player?s touch,? adds McCartney. ?The mid-cut allows the foot, ankle, and lower leg work together as a single unit, emphasizing their natural movements.?
?The fit of this boot is so unique that I don?t think about it when I?m wearing it,? said Iniesta. ?It allows me to move the way I need to instinctively and with more confidence.?
Nike Flyknit ? which was first used in Nike running shoes in 2012 and most recently in the Kobe 9 Elite basketball shoe ? differs from conventional shoe manufacturing processes by creating an engineered upper knitted from special yarns.
Utilizing a Flyknit construction, Magista offers a snug fit at the arch, heel and forefoot, and the added element of a Dynamic Fit collar hugs players in, locking them down in the boot.
?The idea of Flyknit and the Dynamic Fit collar became obvious when we began testing our first prototypes ? it was a new experience,? said McCartney. ?It?s like wearing a glove. A glove starts at the wrist, not halfway up the hand. You need that transition so you don?t disrupt your body?s natural movement.?
As Nike?s design team worked to perfect the collar height, they found through player feedback that the Dynamic Fit collar not only provided a more locked-down fit, but that players also felt more confident and more aware of their movements.
To provide additional strength and lock-down for multi-directional movement, designers added Brio cables. These cables are knitted directly into the one-piece upper and lock the eyelet into the outsole, creating strength similar to a suspension bridge.
For consistent contact and increased control, the Magista features a 3D-knit textured upper.
?Previous construction methods required added layers to the top of the boot to get this friction, ultimately moving the foot further from the ball, but Nike Flyknit allows us to knit texture directly into the boot,? said McCartney. ?3D knit is new for Nike and for football, and hundreds of revisions were required to get this 3D pattern exactly right. The result of all this work is great ball feel in a minimal package.?
To protect the foot from water and cold, Nike?s design team developed a special application of NikeSksin placed over top the Flyknit. The skin is less than 0.1 mm thick ? thinner than a sheet of paper ? and melts onto the knit to help protect from water that provide protection.
Nike has also added 360? rotational traction through conical studs and a Pebax-and-nylon plate to improve traction.
Compressed nylon offers a highly responsive plate that delivers strength while remaining incredibly light. Combined with Pebax, the structure allows for flex and increased movement with the foot while eliminating mechanical flex (an area where the boot always flexes in the same spot).
Nylon extends to the big toe and acts as a chassis to help players plant and then spring off the ground for more explosive speed. Nike also removed the insole board to place the player closer to the ground for a better center of gravity and enhanced traction. Finally, the entirely conical stud configuration is unique to the Magista, enabling 360? rotation.