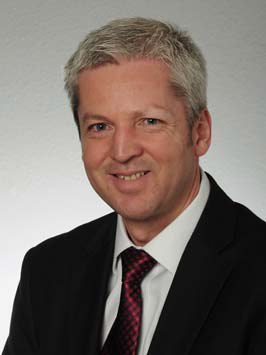 Reutlingen - In his first industry interview since becoming chief executive officer, Stoll?s Andreas Schellhammer tells Haydn Davis about his plans for the historic flat knitting machine builder.
The meeting room at Stoll?s Reutlingen headquarters offers quite an insight into the 140-year history of this flat knitting machine builder.
Portraits of erstwhile company heads, including the founder Heinrich Stoll, adorn the walls, representing the evolution of this company from its inception in 1873 to its current status as one of world?s most renowned producers of electronic flat knitting machines.
Over the course of that 140-year history, and its journey from the production of the first purl split knitting machine in 1873 to the latest state of the art technology, culminating in the 2013 launch of the CMS ADF-3, there has been a constant; a Stoll family member on the executive board. Now though, with the recent appointment of Andreas Schellhammer as CEO, that too has changed.
That?s not to say that the Stoll family influence has diminished. Indeed, after stepping down as CEO in February, Heinz-Peter Stoll remains on the advisory board and is present within the offices on most days.
And that is how it should be.
During a renowned career at the helm, Mr Stoll has left an indelible mark on the industry; not least of which is his international reputation as a man that knows the flat knitting industry in its entirety. An ambassadorial role is also apparent. ?It is important to have Mr Stoll close, playing an active role on advisory board. He has lived this industry and his experience is vital,? says new CEO Mr Schellhammer, declaring that he will benefit from Mr Stoll?s mine of information as he looks to take the company forward.
By way of explanation, Mr Schellhammer admits himself that prior to joining Stoll in January 2013, his knowledge of the textile industry was rather limited, although that?s not to say though that his experience of production and manufacturing was as well. As an engineer equipped with an MBA, Schellhammer?s career in the commercial automotive industry on the technical and production side of the business took him from Germany to the US and on to China, where, a few years ago, he settled into a consultancy role.
By 2012, his strong reputation in industry brought him, through a mutual acquaintance, to the attention of Heinz Peter Stoll who was already planning his own retirement by 2014.
After a meeting at ITMA Asia 2012, the two sides agreed a role for Schellhammer as Stoll?s Technical Director based in Reutlingen, beginning in January 2013 with a view to a gradual takeover of CEO duties further down the line, once Mr Stoll had taken that next step.
?The timing seemed right,? Schellhammer says, adding how he was attracted by a new industry and a new challenge. After several years in China, both his wife and daughter were also in agreement that the opportunity for a new chapter of their lives back home in Germany was too good a chance to turn down.
He also suggests that while the two industries (automotive and textile) make be miles apart in many respects, from some, more subtle perspectives, things aren?t necessarily so different. ?Technically, things are obviously different as we are looking at different products,? he says. ?However, it is not so different in other ways. In terms of overall management and overall processes there are lots of comparable things.?
The past 12 months then have been something of a crash-course in getting up to speed with flat knitting technology. And although some of the intricacies of the industry make take some time to filter through, Mr Schellhammer is clear on where Stoll is required to go from here.
The full interview will appear in the next issue of Knitting Trade Journal. CLICK HERE to make sure you receive your copy.