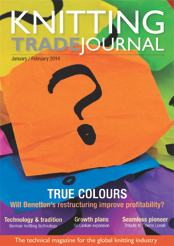 Knitting Trade Journal, the authoritative voice of the global knitting and hosiery industries, bringing our readers the latest news and industrial best practice on the issues that really matter, will be exhibiting at ITMA Asia + CITME from June 16-20 in Shanghai, Hall E5, booth G12.
As the only, truly cross-platform resource for our industry ? print, web, e-news, mobile, social media ? we will be reporting live from the show. We would also like to invite our current readers and any potential new ones to visit us at our booth to find out more about our products and services.
Whether readers visit our dedicated, daily online news service, download our new mobile app (a first for the industry) or read our printed magazine, Knitting Trade Journal is designed to be responsive and deliver up-to-date information on the subjects that matter to our industry.
The magazine is now published six times per year with many industry executives acknowledging the publication as the primary printed and on-line resource for the global knitting and hosiery sectors.
Providing the information ?as it happens?, the team behind Knitting Trade Journal has extensive experience of the industry with a breadth of publishing knowledge and technical experience that means we can examine topical issues from many different perspectives to ensure that all views are considered. Improving the way knitted textiles are produced is a serious objective and at Knitting Trade Journal we aim to make it enjoyable, and present information in a clear and easy to understand format.
See you in Shanghai!