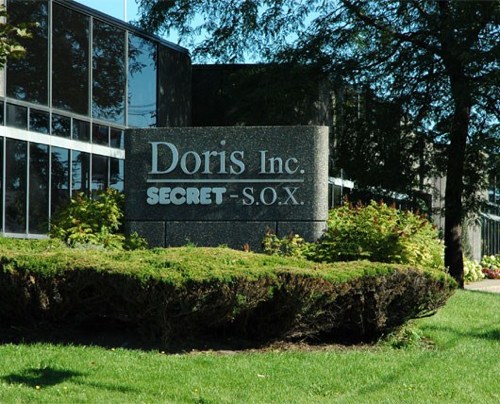 Montreal - Gildan Activewear is to buy Doris Inc., the Canadian market leader when it comes to manufacturing branded sheer hosiery, legwear and shapewear products to retailers in Canada and the United States.
The CDN $110 million (US$101.4m) deal will give Gildan a strong sales organization and platform for retail distribution of the Gildan and Gold Toe brands in Canada. Importantly it will also position Gildan for entry into the ladies intimates' category, a sector that up to now has not been a key focus.
Further additional contingent payments of up to CDN $10 million which are based on the achievement of targets for growth in sales revenues, are also part of the deal.
Doris is the third largest marketer of branded ladies legwear in North America and the market leader in Canada, with products sold throughout all retail channels of distribution. Its company-owned brands include Secret, one of the most recognized sheer pantyhose brands and a growing brand for shapewear in Canada, the Silks brand, and TherapyPlus, which provides therapeutic legwear solutions for medical conditions and everyday activities.
Doris also markets its brands including Kushyfoot and TherapyPlus in the US and has brand licenses and supplies selective retailer private label programs.
For Gildan, the acquisition will further enhances its consumer brand portfolio within its existing US retail distribution and position it to increase its penetration in the basic women's apparel markets. It will also further broaden its retail distribution network in the United States due to Doris' strong presence in the food and drug channel.
Revenues in the US account for close to 30 per cent of Doris' total sales.
Revenues of Doris for the year ended March 31, 2014 amounted to approximately CDN $95 million (US $87.6 million), and adjusted EBITDA for the same period amounted to approximately CDN $14 million (US $12.9 million), which effectively means that the acquisition is expected to be immediately accretive to Gildan's earnings in fiscal 2015.
Doris' head office is located in Montreal, Quebec from where its overseas a distribution facility and a sheer hosiery manufacturing facility with knitting, dyeing and packaging capabilities in Montreal. Approximately half of Doris' production is vertically-integrated.
Doris' management team, including the founder's son, President and Chief Executive Officer Jack Hasen, will join Gildan and contribute to the further development of Gildan's Canadian retail branding strategy.
The acquisition is subject to customary closing conditions and is expected to close in early July 2014.