Reutlingen - The latest collection from flat knitting machine builder Stoll makes use of selected intarsia plating and innovative coating techniques to create textures that recall leather and even antique rugs.
Launching the collection, Jorge Hartmann, the Head of Stoll Fashion & Technology said that the offering for Autumn Winter 15/16 was inspired by the native cultures of North America, as well as current sportswear and fashion trends.
?Tribal ornaments and natural tones meet the modern lines and bright colours reminiscent of varsity gear,? he said, adding that the result was a seemingly spontaneous patchwork from the worlds of traditional Native American clothing, sportswear, denim, fashion and vintage.
He continued: ?Ethnic fringes and futuristic spacer knits highlight the collection?s hybrid spirit: from ancient traditions to modern sports. The knits feature an appealing used look ? the result of sophisticated laser and wash effects. Innovative coating techniques create textures that recall leather and antique rugs.?
Mr Hartmann also highlighted how intarsia plating was used for individual motifs, partially with an anti-crocking function ? where only the outside is selectively plated with indigo yarn and the inner face remains free of indigo.
Unique motifs were also produced using Inverse Plating while material contrasts between wool, linen and polyamide create astonishing effects, he said, unattainable by any printing technique.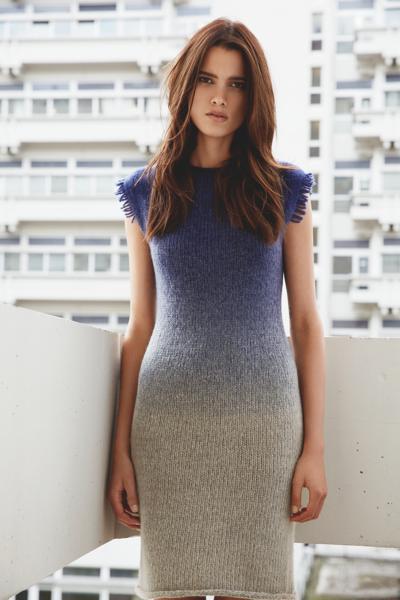 ?With Selective Plating, colours achieve a particularly harmonious chromatic expression, as the plating colours blend with the basic colour. Our collaborations with Tonello and Studio Yarn were successful in every way. With Tonello we explored how to dye the yarn after knitting and with Studio Yarn we developed a yarn which produces a colour gradient during the knitting process.?
Elsewhere, Stoll also confirmed that it would start 2015 with its Capsule Collections, altering the future frequency from twice to four times a year. These new collections will be published quarterly in spring, summer, autumn and winter with each displaying a special topic.
The spring- and summer- as well as the autumn- and winter collections will include patterns with appropriate colours with each collection presenting different knitting techniques and patterns which are knitted on the latest machine technology.
The Capsule Collections will be smaller with the patterns available on the Patternshop.