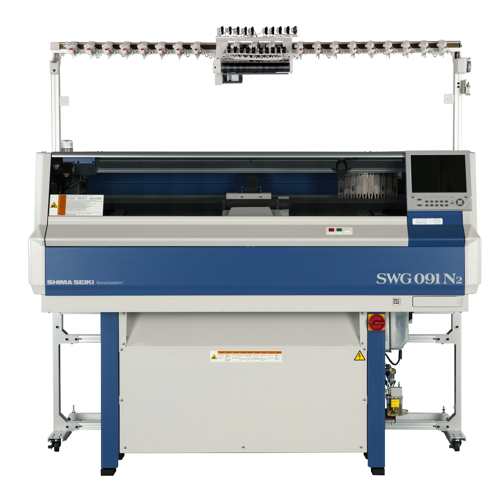 Wakayama - Japanese computerized knitting machine manufacturer Shima Seiki will make its first ever appearance at the ISPO exhibition next month with the sportswear show identified as the ideal platform for the company's SWG091N2 compact WholeGarment knitting machine, which is said to ideally suited to the production of seam-free knitwear for the athletic performance sector.
Together with its Italian subsidiary Shima Seiki Italia, the company will give visitors the chance to how the original SlideNeedle on the SWG091N2 assists the flexible production from small knitted items such as gloves and socks to garment-size products. It can also knit various textures and fabric structures for creating partial compression, spacer fabric and other effects that aid in athletic support and protection.
The SWG091N2, which has a 36 ins wide needlebed is complemented by three other models , the SWG021N2, SWG041N2 and SWG061N2 which have 10, 16 and 24 ins needlebeds respectively. All four of these models are also equipped the top tension device which makes use of a convenient one-touch threading system for quick and easy setups.
When a knot is detected during knitting, the machine stops for large knots, while small knots cause the machine to slow down. The top tension therefore serves as an effective quality control sensor. The elastic yarn feeder also features a motorized unit for controlled feeding of elastic yarns, which allows production of various supporters and braces for the sports and medical fields. Yarn feed is performed from above for greater reliability and efficiency.
The new SWG-N2 series also features the proven R2CARRIAGE system for higher productivity and a larger number of yarn carriers and holding hooks for yarn cutting, as well as a separate yarn holder with increased capacity allows for even more flexibility in multi-color knitting.
The latest version of the SDS-ONE APEX3 3D design system will also be available for demonstrations.