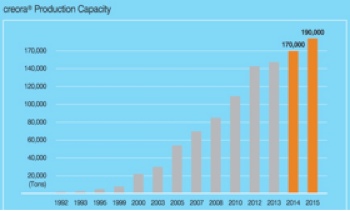 Seoul - Hyosung, which claims to be the world?s largest elastane manufacturer, increased its capacity in China and Vietnam at the beginning of this year with both markets now identified as key sourcing and consumption areas.
The additional expansion in China, which last saw an increase as recently as 2012, is designed to meet growth in consumer demand for elastane as the country's middle class continues to grow, while in Vietnam, the ramp up in production is in anticipation of the passing of the Trans-Pacific Partnership Agreement (TPP) agreement.
Vietnam is currently negotiating the terms of its participation in the TPP, the US led free trade agreement. If successful, the negotiations would see Vietnam able to either halve or nullify a 17 per cent duty the US currently levies on Vietnam garment exports.
However, to secure duty-free status, Vietnam must agree that all manufacturing processes, including yarn spinning, knitting and dyeing, will be carried out in TPP member countries under the ?yarn forward? criterion. Hyosung's increase at its Vietnam plant, which is located at Nhon Trach, Dong Nai, would allow it to benefit from the anticipated demand from markets such as the US for Vietnamese-made textiles.
In addition to investment in capacity, Hyosung has also opened a Textile Development Center in China to focus on fabric development and innovation. The Textile Development Center includes covering, hosiery, seamless, circular knitting and weaving equipment.
The intent is to use the facilities to explore new creora product innovation as well as develop new prototype concepts to integrate in customised business development workshops.
?We are constantly looking for new ways to add value for our customers," said Creora said President Kim. "Our innovation platforms are focused on improved processing value, enhanced functionality, and new aesthetics."
Kim continued: 'Our new development center will provide a competitive advantage when combined with our latest manufacturing capability for outstanding quality, consistency, and run ability. Our intent is support our customers through new innovation and business development.?
In addition to China and Vietnam, Hyosung currently operates Creora elastane plants in Turkey, which has grown to be a greater sourcing and delivery centre for the European continent, in South Korea, as well as a plant in Brazil which opened in 2010 to supply the growing South American markets.
The fresh expansion underlines the company's strategy of placing production as close to their customers as possible. Spandex production has increased along with demand over the last few years as it still is on a garment penetration trend. For example, the latest trends in women?s knit dresses have spandex for fit and style.
According to Hyosung, the ?mega trend? of comfort and fit has driven the overall demand for elastane consumption in garments and developing countries with the key features behind its growth in recent years being the delivery of quality, consistency, value and versatility for enhance productivity and competitiveness for its customers.
For example, the creora type H550 product is engineered to be one the most versatile elastane items a mill can buy. It is dyeable with nylon so absorbs any acid dye stuff and has outstanding wash fastness for today?s colour-block trends. It is also low heat-settable for mills with fine gauge equipment or for blends with cellulosics (cotton, rayon, viscose, modal, Tencel). It has chlorine resistance so can be used in socks, or even fashion swimwear. One elastane can be used in a variety of innovative circular knit applications.
Other recent developments include an environmentally friendly version of its creora family of fibres, which is said to help knitting mills producing particularly fine gauge knitted fabrics reduce water usage and improve quality. Known as creora easy scour, it makes use of the company's proprietary finish to meet the needs of mills who are using finer gauge knitting finer yarns for more delicate fabrics and is also said to enhance the color appearance of fabric.
Creora easy scour elastane also has environmental and quality benefits as the reduced residual oil on the fabric surface after scouring allows mills to dye and finish more effectively.