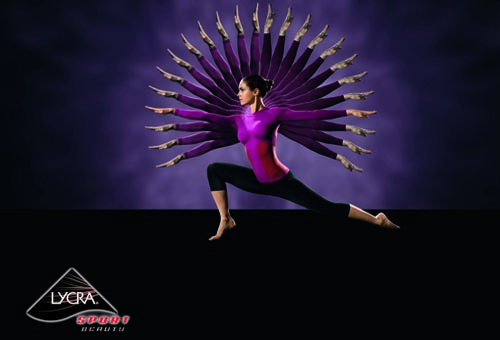 Geneva - Invista, one of the world?s largest integrated producers of polymers and fibres, and owner of the Lycra brand has announced the shortlisted candidates for the 6th edition of its Lycra Future Designers award.
This edition marks the third time Invista has participated with its Lycra Future Designers category as part of the WGSN Global Fashion Awards. Previously, the award was an event in itself organized by Invista, first started in South America in 2009.
This year, the global selection includes student designers or young graduates from South America, Asia and Europe. Agustina Andrea Delgado Recke (Argentina), Natalia Vechiatto Feitoza (Brazil), Yiyi Guo (China), SiChen Huang (China), Wang Xiang Yi (China), Pui Yan Rachel Tse (France), Sukriti Mandal (India), Silvia Teh (Singapore), Cassandra Verity Green (UK) and Geraldina Montemayor (UK).
?We are really excited to have such a strong list of candidates for the Lycra Future Designers award this year,? says Bob Kirkwood, Executive VP of Technology & Marketing at Invista Apparel & Advanced Technologies. ?Having a global representation of creative talents is very important for the fashion, design and apparel industries, and this year?s picks show us more and more that with globalization there is a real value in a melding of cultures and inspiration from one side of the world to the other. We are certain that the recipient of our award will make an impact on the industry,? he says.
Participants were invited to submit designs that could be manufactured using fabrics with Lycra fibre, along with mood boards and supporting documentation to make their case. Entries needed to be made up of any of the following categories of apparel: intimates, swim, active sportswear, hosiery or denim.
The final winner will be presented at the WGSN Global Fashion Awards on 14 May at The Park Lane Hotel in London, UK, and Invista will offer him/her the chance to work with expert mentors at Invista.