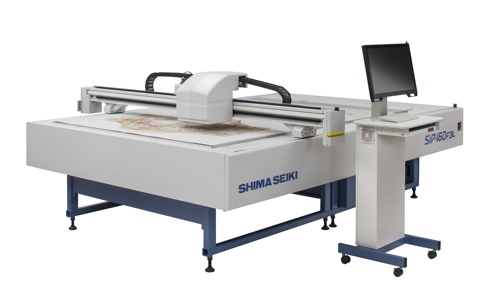 Wakayama - Computerized knitting machine manufacturer Shima Seiki of Wakayama, Japan, together with its European subsidiary Shima Seiki Europe and sales distributor Fenix Digital Group Srl, will participate in the FESPA 2015 exhibition in Cologne, Germany this May.
On display will be the company's latest offering in digital textile printing, the SIP-160F3 the flatbed inkjet printing machine that is capable of providing beautiful full color printing on a variety of fabrics.
With the SIP model, reactive dyes, acid dyes and pigment inks can be used to support different types of print applications with the latest model now equipped with a new ink circulation and degassing system.
Unlike conventional dyeing and printing systems, which require long lead-times for preparing films and plates, SIP-160F3 uses advanced piezo inkjet technology and is suited to quick-response small-lot production. The basic colors of Cyan, Magenta, Yellow and black combine to yield beautiful results with vivid color and improved tonal range.
For reactive dyes, SIP-160F3 features a special dye package that includes blue, orange and red inks for wider color gamut. An all-new printing head features multidrop inkjet technology, which rapidly deposits many drops of ink in different tones in a single pass, permitting subtle gradations at high levels of productivity. In addition the printing head can be raised or lowered, specifically a range of 3mm - 50mm, to allow printing on fabrics with 3-dimensional textures and even directly on completed products.
The maximum print head speed is now recorded at 0.89m/sec. with a maximum print speed of 40 square metres per hour, although both of these speeds vary according to the print conditions.
Where this system really excels, says Shima Seiki, is that it breathes freedom into digital printing, not only allowing for printing onto 3D textures such as knitwear but also seamlessly onto whole garments too. And with the option of either acid or reactive dyes, it also boasts exceptionally high print quality with the required level detail achievable on even the most luxurious fabrics such as cashmere and mohair without sacrificing the handle of the fabric in any way.
Designed specifically for cellulosic and protein fibres (including Silk), the SIP is also said to deliver opportunities for print that traditional methods cannot achieve and is quickly being considered an invaluable tool for many operations from sampling to production.
When used with the color management system on SDS-ONE APEX3, which will also be on display, Shima Seiki says it's also possible to create accurate simulations of the printed piece for checking.