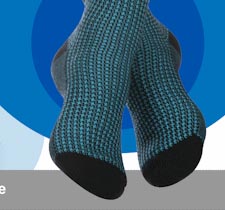 Hinckley - Renowned Leicestershire sock manufacturer, HJ Hall, famous for its Pantherella brand of socks, innovative design and hand linked toe seam, is closing down its domestic manufacturing base.
The news will come as a surprise to many in the industry. In 2012, the company made the headlines after it made the decision to return its production back to its original base in Leicestershire. HJ Hall began making sock in the UK's knitting heartland around Leicester in 1882 but as the industry in the UK dwindled, was forced to shift production to Turkey in 2007 in order to remain competitive.
In 2012, the return of the majority of production back to the UK meant that around 80 per cent of its overall production was once again made in Leicestershire.
Since then, however, the company has been hit hard by a combination of increased competition from overseas and, several years ago, the loss of key contracts such as a major deal to supply the British Armed Forces which accounted for nearly 30 per cent of the business.
Local press reports suggest that although figures have not yet been confirmed, it is anticipated 18 people will lose their jobs as part of a rolling redundancy programme from both factory floor and management levels. Warehousing, dispatch and distribution operations as well as other services such as marketing, e-commerce, design and development will remain in the UK.
Neville Hall, executive chairman and great-grandson of John Hall, the firm's founder, said the firm was looking to obtain smaller premises in Hinckley and sell off the land it owns at Coventry Road. He told the Hinckley Times: "It was a very sad day for me personally when I made the announcement that we would be ending our knitting in Hinckley. Quite a few of the employees have been with me at the Coventry Road site since it was opened in 1977. It was never a problem to find good labour and staff have been very loyal, which makes things even harder. It is a real shame."
Encouragingly, some specialist product manufacture may be switched to the Pantherella plant in Leicester, acquired by HJ Hall in 2001. Otherwise production will once again go to Turkey and potentially other European countries. The firm has not ruled out buying in from other specialist UK-based sock knitters.
The company's products are sold under a number of private label brands in independent retailers as well as high street chains such as Debenhams. It also produces brands such as Softop, Indestructible, Executive Prosport and ProTrek ranges.