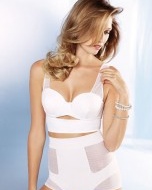 New York - Invista has officially launched the latest platform for its Lycra brand - Lycra Beauty Cooling technology, which has been designed in response to consumer needs for increased sophistication and comfort performance in the shapewear category.
The latest offering was unveiled at last week's present Interfilière New York where Invista, owner of the Lycra brand, collaborated with Eurovet, the international organiser of intimate apparel, swimwear and performance fabrics trade shows.
Lycra Beauty Cooling technology is said to provide the wearer with outstanding shaping with long-lasting freshness and permanent moisture management. Consumer research conducted by Invista indicated that 78% of female consumers find moisture management in shapewear to be extremely or very important, with only 40% satisfied.
"The secret is Coolmax Technology," said Arnaud Ruffin, Strategy and Business Development Director at Invista Apparel. "It features fibers with an engineered cross-section, enabling moisture to reach the fabric's outer surface where it evaporates quickly."
Ruffin added: "Lycra Beauty Cooling technology addresses the problem of shapewear discomfort due to body temperature, which was reported to be a challenge at the consumer level. Fabrics from international mills are already available, and we expect first adoptions to hit shelves in the coming seasons."
The one-day event was packed with fabrics, accessories and production capabilities from around the world. The show presented a geographically curated selection of mills from Europe, Asia and the Americas catering to the intimate apparel, swimwear and athleisure industries. Among the new features this year was the Creative Lab a new format trend presentation created by Concepts Paris for Interfilière New York which showcased the mill's technological innovations.