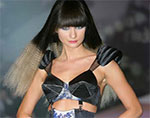 Paris - The organisers of Interfiliere and Mode City have relocated the summer 2016 editions to Lyon from Paris to avoid a logistical clash with football's European Championships.
With the Final of the Euro 2016 scheduled for 10 July in Paris, and obvious ensuing restrictions placed on the logistics and organisation of trade fairs, Eurovet has decided to move Mode City and Interfilière to Lyon from 9-11 July 2016 as a one off.
"The impact of such a large-scale event on hotel occupancy, airlines and taxis, as well as the considerable rise in prices already observed in accommodation near the Porte de Versailles exhibition park where the journalists from the Euro Press Centre will be staying, prompted us to consult a number of visitors and exhibitors accounting for over half the exhibiting area," organisers said. "This consultation showed that most exhibitors and Eurovet wanted above all to facilitate matters and service for their clients, leading to this decision whereby these two leading shows in the worlds of summer intimates and beachwear will be moving back to the city of Lyon - where they originated - for 2016.
"The shows left Lyon for Paris in 2008. In the meantime Lyon has increased its hotel capacity and accessibility, providing the conditions and the occasion for players in the industry to restore the affectionate ties with this city with its friendly reputation."
Ideally located as a European hub, linked by roads to many nearby countries (Germany, Austria, Switzerland, Italy and Spain) Lyon is also a centre for textiles, arts and culture, hosting well-known international events such as the Biennale de la Danse and the Light Festival. It boasts museums with futuristic architecture like the Musée des Confluences which opened just last year, therefore offering various sources of inspiration in 2016 for designers and buyers from all over the world.
It is also a city that the Eurovet staff know well, having long organised Mode City and Interfilière there, and continuing to organise Sport Achats. The global intimates and beachwear community were also well used to it, which considerably smooths the move for 2016, with support from the Eurexpo Exhibition Park, the Greater Lyon City Council, and local stakeholders in business tourism.