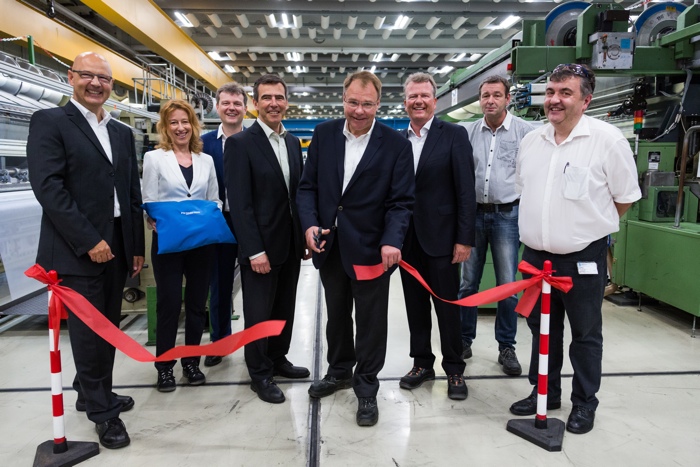 Weinheim - Technical textile manufacturer Freudenberg Performance Materials has inaugurated a new knits production line at its Weinheim location. The line will manufacture elastic interlinings for the international fashion industry.
Freudenberg Performance Materials acquired the business from Hänsel Textil GmbH in Iserlohn in August 2014. Relocation of production to Weinheim began in 2015 with the line officially inaugurated on Tuesday.
"The Hänsel brand continues to stand for quality 'made in Germany' under the umbrella of Freudenberg. With the knit products from Weinheim we can offer our Hänsel customers an even broader range of interlinings," Dr. René Wollert, Chief Financial Officer, emphasized. Until today, the Business Group, which is part of the Freudenberg technology group, manufactured nonwoven and woven interlinings.
The main customer grouping for elastic interlinings is the international fashion industry. Knitted interlinings are highly elastic and have a low volume, which makes garments more comfortable to wear. These special fabrics give women's outerwear or men's jackets the required stability.
According to Volker Del Monego, the project manager at Freudenberg Performance Materials responsible for integrating Hänsel, relocating the complex Hänsel equipment to the Weinheim facility was a major challenge. "We had to dismantle the machinery in Iserlohn and reassemble it in Weinheim in stages in order to ensure production continuity and uninterrupted deliveries to customers," he said, adding that 19 knitting machines had found a new home in Weinheim.
Freudenberg Performance Materials is a global manufacturer of technical textiles for a broad range of markets and applications such as Apparel, Automotive, Building Materials, Hygiene, Medical, Shoe and Leathergoods as well as Specialties.
In 2015, the company generated sales of almost €980 million and has 25 manufacturing sites in 14 countries and more than 3.800 employees. The company is part of the Freudenberg Group.