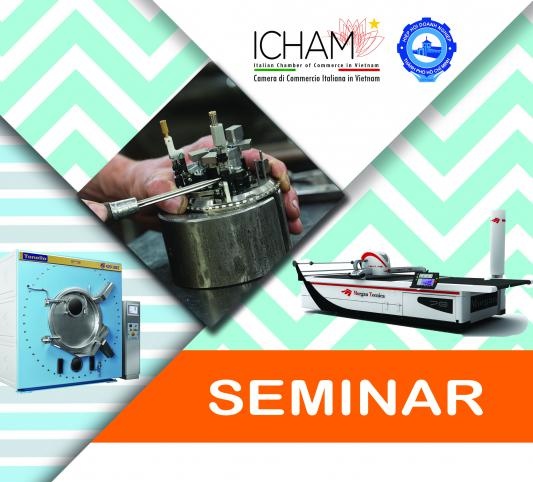 Ho Chi Minh City - Sock knitting machine builder Busi Giovanni will be showcasing its technical expertise to garment manufacturers in Vietnam this week where the Italian Chamber of Commerce in Vietnam (ICHAM) has organized a series of technical seminars.
In the context of free trade agreements such as the TPP or EVFTA to take effect in 2018, Vietnamese enterprises in general and textile enterprises in particular need to increase production capacity to improve competitiveness and meet strict quality demands from Vietnam's export markets such as the US, the EU and Japan.
One of the biggest challenges for many enterprises is to upgrade the current production technology, much of which is still retrograde and low-yield. Understanding this need, since 2015, the ICHAM has organised a series of technical seminars in collaboration with leading Italian machinery manufacturers to bring Vietnam closer to the advanced Italian production technology, as well as to connect and promote the trade relations between the two countries.
On 13th September 2016, ICHAM will organize a seminar focusing on the Italian garment and textile technology in Ho Chi Minh City, in collaboration with The Union of business associations of HCMC (HUBA). This is the third seminar organized by ICHAM, following the series of technical seminars to introduce the quintessence of Italian technology to Vietnamese enterprises.
"Mechanical engineering represents one of the strengths of Italy, in which the garment and textile technology Made-in-Italy is highly appreciated worldwide," organisers said. "Coming to this seminar, textile manufacturers in Vietnam will have the chance to explore the Italian production technology as well as to seek potential collaborations to upgrade their technology and improve their production capacity. "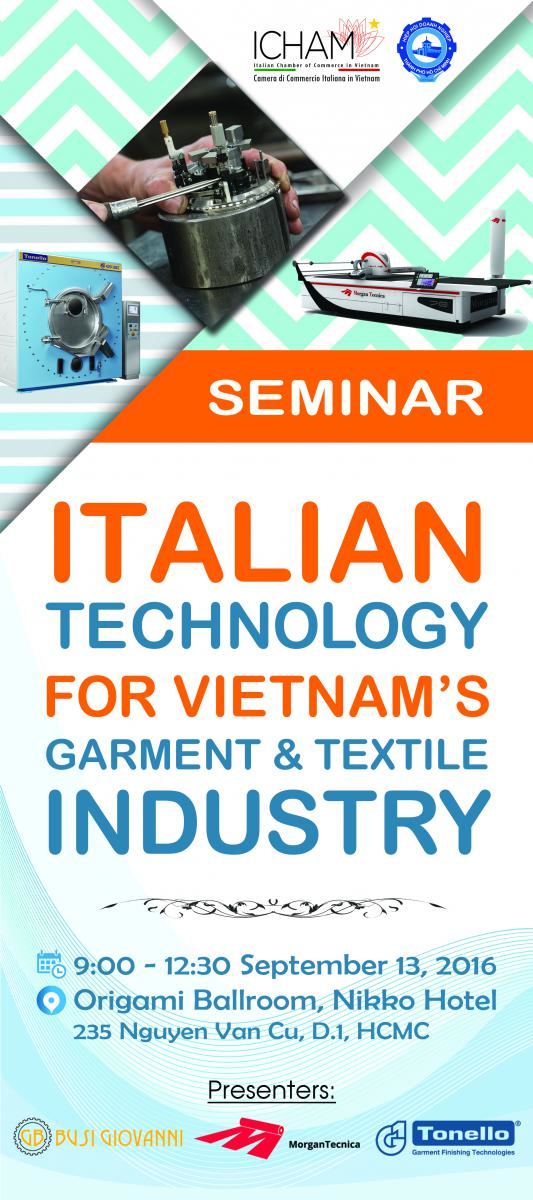 At the seminar, three leading Italian manufacturers of textile machineries will present to the audience the most modern technology available in the market for sock knitting machines, garment finishing and global solutions for cutting room:
Busi Giovanni Srl specializes in the design and construction of single-cylinder machines with rib needles in the dial for the production of high-quality stockings, socks and tights. Busi is nowadays recognized worldwide as one of the most prestigious manufacturers of machines for elegant, classical, as well as high-performance, high -tech socks.

Tonello is a leading manufacturer of garment finishing technologies, specializing in high-quality and eco-friendly washing and dyeing machines. Tonally designs their machines in-house and engineers them precisely in terms of efficiency, performance, safety and sustainability to ensure lower water and energy consumption, as well as reduced emissions.

Morgan Technica provides a wide range of solutions for the cutting room, producing several types of roll loading and handling systems, automatic spreaders, spreading tables, labellers, automatic cutters with different lay thickness, from 2,5 to 9 cm and plotters, software for CAD, Cut Order Planning, PDM and Virtual Fitting.
The event takes place on 13 September at the Ballroom, Nikko Hotel, 235 Nguyen Van Cu, Dist.1, HCMC Vietnam.