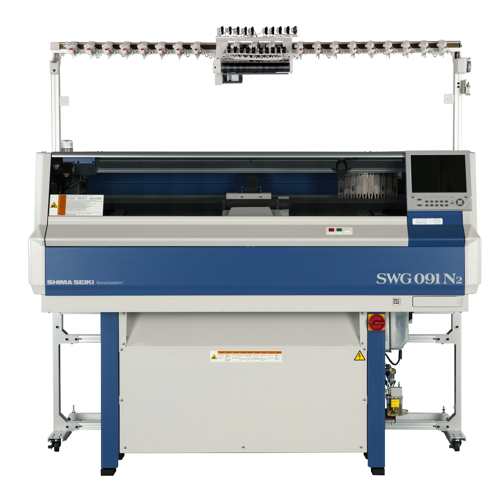 Sibiu - Shima Seiki Italia S.p.A., the Italian subsidiary of Japanese computerized knitting machine manufacturer Shima Seiki will hold a private exhibition in Sibiu, Romania this week in conjunction with its Romanian sales agent Knit-Tex Rom.
Scheduled for 21-23 September, Shima Seiki will be exhibiting a lineup of its latest computerized flat knitting machines ranging from conventional shaping machines to WHOLEGARMENT knitting machines that are capable of knitting an entire garment in three dimensions without the need for sewing or linking afterward.
The SWG091N2 compact WHOLEGARMENT knitting machine features the SlideNeedle and offers great flexibility in producing a variety of accessory items such as gloves, socks, leggings, hats and mufflers as well as childrenswear and even technical textiles.
The novel SRY123LP computerized flat knitting machine features specialised loop presser beds with inlay capability, offering new and exciting possibilities in knit-weave hybrid textiles as well as technical textiles.
Conventional shaping machines such as the SVR122 in ultrafine 18 gauge and SIR123 in 14G will also be on display to demonstrate the leading edge in computerized shaped knitting technology. SCG122SN and NSES122CS round out the flat knitting machine lineup with specialized coarse gauge knitting.
Demonstrations will be performed on the SDS-ONE APEX3 3D design system that is at the core of Shima Seiki's "Total Knitting System" concept. With comprehensive support of all aspects throughout the knit supply chain, APEX3 integrates knit production into one smooth and efficient workflow from planning and design to machine programming, production and even sales promotion. Especially effective is APEX3's capability to improve on the planning process with Virtual Sampling. Photo-realistic simulation capability minimizes the need for sample-making, effectively reducing time, material and cost from the sampling process.
The exhibition will take place at the Centrului De Afaceri Building, Str. Nicolaus Olahaus, Nr. 5, Corp. B, Sibiu, Romania.