Bologna - Italian company Tinarelli srl, which makes packaging machines and other finishing technology for the global socks and hosiery industry has launched two new machines, a new steam boarding model and a high-speed folding and bagging machine.
The CF8 is a full steam-boarding machine for hosiery products that can process up to 24 forms in the steam chamber - so using 72, 84, 108, up to a maximum of 144 forms. It is also possible to change the number of forms easily while different sizes can also be processed at the same time.
Offering very low electricity and steam consumption - from 50 Kg/hour up to 105 Kg/hour depending from the boarding process needed - loading and unloading is carried out by operators while there is also a guide to fold and fix the gusset.
Tinarelli, which offers an extensive range of finishing and packing machines, has also developed the IM2 HS, a high speed folding and bagging machine for tights and stockings.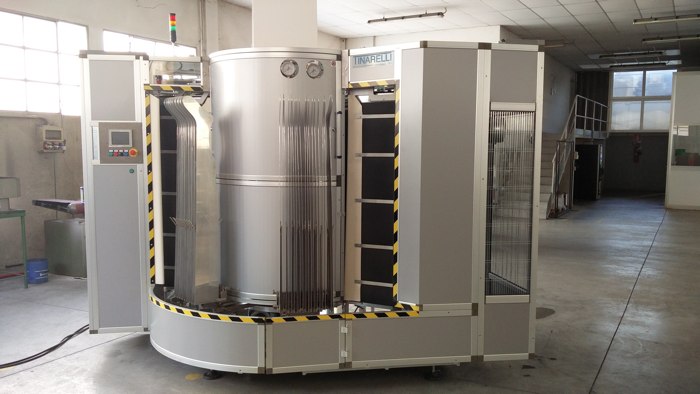 Running at a maximum machine speed of 20 bags per minute, this latest model is loaded manually by an operator with the foldings and inner board introduction carried out by mechanical movements.
The IM2 HS also has an electronically programmable folding length mechanism with a range of other features including a double boards-feeding magazine, bag construction from a open film reel, a quick and easy format change and the option to cut the flaps corners.
Further possibilities include a film reel double magazine, bag closure by label and the option to print on the bag front or label application while also applying a label plastic-hook on the bag.