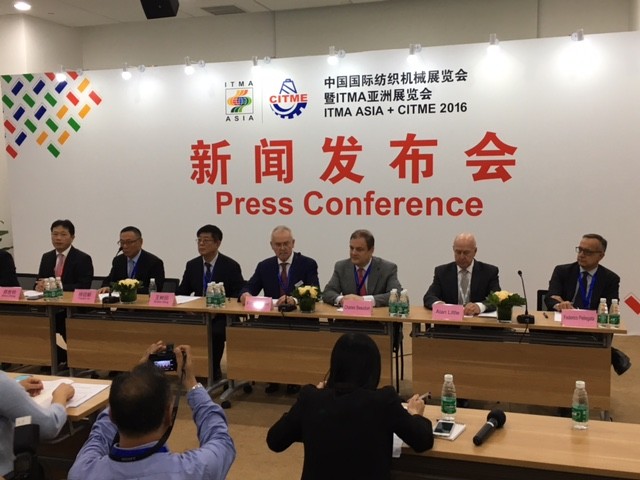 Shanghai - The knitting sector at ITMA Asia + CITME included more than 240 exhibitors across 15,000 square metres of floor space, offering visitors a vast array of the latest warp and weft knitting technology as well as needles, sinkers and other ancillary equipment.
Opening proceedings, Fritz Mayer, the new CEMATEX president and current member of the supervisory board of the Karl Mayer Group said the show had continued to grow in stature and size, and was, "without doubt the most important textile machinery show in Asia."
"As the world grapples with economic uncertainties, innovative technologies will be critical for success," he said. "In line with the global manufacturing landscape and fierce competition, many textile manufacturers have been moving up the value chain to cater to the demand for upmarket textile products. With rising labour costs, volatile raw material prices and stricter environmental regulations, textile manufacturers are left with little choice but to invest in new technologies and solutions."
China's Ministry of Industry and Information Technology (MIIT) recently revealed that the country aims to achieve average annual growth of 6-7% in its textile industry for the 2016-2020 period, and is striving to make the industry more environmentally friendly. The MIIT has also stated that exports will constitute a stable share of the global textile market during the five-year period, but they will be of better quality.
Overall, ITMA Asia + CITME is playing host to 1,673 exhibitors from 28 countries with around 100,000 expected through the doors during the five-day show.
The largest show in the series since its inception, the combined exhibition grosses over 170,000 square metres of exhibition space – 12 per cent larger than the last edition. It is the biggest showing since the first edition.
"We are delighted with the response to our exhibition," Mayer added. "Despite the current sluggish economic climate, there is a great need for an industry-leading platform in Asia where established textile machinery manufacturers can showcase their products and services and connect with their customers."
Mr Wang Shutian, President of China Textile Machinery Association (CTMA), added: "The combined show is an excellent platform to reach Asian buyers. The overwhelming response is also partly due to the Chinese government's call to embrace automation which will help the industry improve the quality of textiles and cost-effectiveness.
"Even though economic conditions may be difficult at the moment, textile makers recognise that it is even more critical for them to invest in better technological solutions and to upgrade their facilities."
In terms of exhibit space, China fields the biggest number of participants. The Chinese exhibitors occupy 69.4 per cent of the exhibition space. This is followed by Germany – 6.5 per cent, Italy – 5.5 per cent, Japan – 4.7 per cent and Switzerland – 3.2 per cent
By product categories, spinning is the largest sector, occupying 30 per cent of the total exhibit space. Dyeing, finishing and printing machinery form the next biggest group at 27 per cent, followed by knitting and weaving at 17 per cent.
ITMA ASIA + CITME 2016 is jointly owned by CEMATEX (the European Committee of Textile Machinery Manufacturers) and its partners in China - the Sub-Council of Textile Industry, CCPIT (CCPIT-Tex), China Textile Machinery Association (CTMA) and China Exhibition Centre Group Corporation (CIEC).