Milan - Italian Warp knit specialist Cifra has has adapted its patented Warp Knit Seamless technology for applications in the beachwear sector which, as well as including a number of new fabric innovations, also offers sustainably produced garments.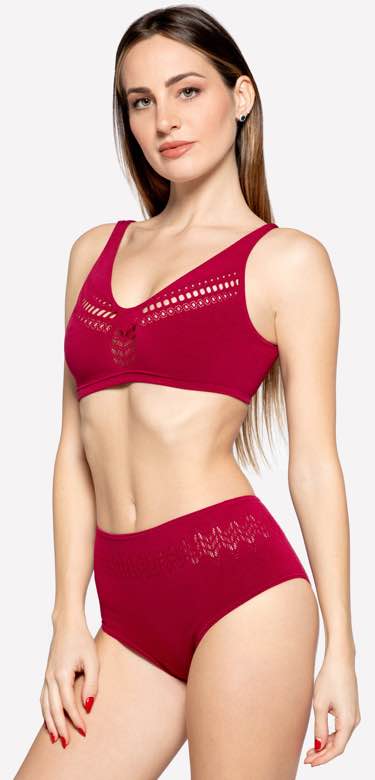 According to Cifra, snag-resistant swimwear in 3D Warp Knit Seamless is a game-changer compared to traditional weft knit seamless garments on the market. Moreover, the technology allows knitters to use sophisticated body mapping technology to play on positive and negative spaces and patterns to enhance the figure with a variety of designs.
WKS warp knit beachwear is described as seamless, snug and quick-drying for total comfort, and has the unique characteristic of being run-proof, a value added supplement to its fashion credentials. "Cifra's new offering re-thinks beachwear and meets current common needs of time and practicality: comfortable and versatile garments, designed to be worn throughout the day also as elegant lingerie bodysuits," the company says.
WKS beachwear concept is also said to be adhere to sustainability concepts, a key issue at the heart of Cifra's research and development. The offer includes products knitted both in premium polyamide 6.6 and in pre and post-consumer recycled yarns such as Radici Group's Renycle, a polyamide 6 obtained from production waste, as well as Aquafil's Econyl, made from plastics recovered from the oceans that have then been recycled.
Both are combined with an elastomer which is also recycled. "In the aim of a full sustainability, from the sea and in support of the sea, with a strong emphasis on design and responsible innovation," Cifra said.
Cifra has been producing seamless garments for private labels for more than 20 years with production mainly taking place on raschel jacquard machines (warp knitting seamless) and includes tights, leggings, knee-highs as well as seamless garments for underwear, outwear and sportswear.
As well as a bank of 18 Karl Mayer RDPJ 6/2 N double needlebar jacquard raschel machines, the Milan-based company also runs a Seamless Smart machine after becoming one of the first European companies to take delivery of the system back in 2008.